About Logo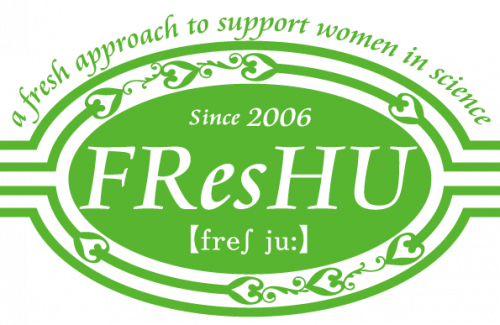 The nickname of the Support Office named "FResHU" (fresh you) from an initial of "Female Researchers in Hokkaido University".
"Fresh You"
I hope also "I hope you will always feel fresh".
The two lines that draw the surrounding arcs represent "appearance of DNA replication".
Two pairs of DNA are separated, one is continuously (upper right / lower left in the figure) and the other replicates DNA fragmentarily slowly with the help of enzymes (upper left and right of the figure Bottom), in the end both replicate exactly the same DNA.
In a long life, personal careers may be interrupted due to various circumstances.Our Support Office for Female Researchers wishes to help you connect the careers you draw like an enzyme that connects pieces of DNA.
Also, the green of the logo represents "Trees of Hokkaido University", and the white of the background represents "Snow".
The arrow in the DNA replication direction is represented by heart shaped leaves.
The Support Office wants to fulfill the role of connecting the hearts of female researchers.