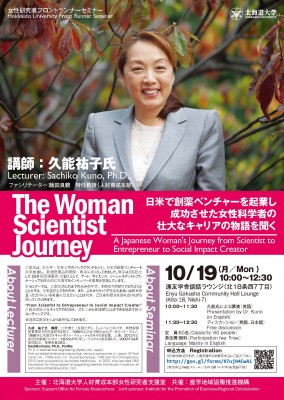 Title
"A Japanese Woman's Journey from Scientist to Entrepreneur to Social Impact Creator"
Lecturer
Sachiko Kuno, Ph.D,
Date-Time
Oct. 19th (Mon), 2015
10:00~12:30
10:00~11:30, Presentation (English)
11:30~12:30, Discussion
Venue
Enyu Gakusha Community Hall (Kita-18, Nishi-7), Lounge
Capacity
60 people
Registration
http://goo.gl/forms/07uj04CwA1
Sponsor
Support Office for Female Researchers, Front office for Human Resource Education Development
Joint sponsor: Institute for the Promotion of Business-Regional Collaboration
Cosponsor: I-HOP, Front office for Human Resource Education Development
Support: Nitobe College
Detail
Dr. Sachiko Kuno studied biochemistry and biochemical engineering and obtained her Ph.D. from Kyoto University, Japan. After conducted post-doctoral research at the Technical University of Munich, Germany, in the mid-80s, Dr. Kuno joined her partner, Dr. Ryuji Ueno, and established R-Tech Ueno Ltd. in Japan. Leveraging R-Tech's success in Japan, Dr. Kuno and Dr. Ueno moved to U.S. and established the Sucampo Group, an affiliation of companies in the Americas, Asia and Europe in 1996. She co-established 3rd drug-development company, VLP therapeutics in 2012.
Additionally, in 2000, Dr. Kuno founded S&R Foundation in Washington, D.C. for the purposes of supporting talented individuals with high aspirations and great potential in science, art and social entrepreneurship, especially those who are furthering international cultural collaboration.
In this seminar, Dr. Kuno will talk about what and how she thought and chose at the turning point during her career. She will also tell the message to the younger generation who are in their turning point and who started their career by their own, with looking back to her history.
"From Scientist to Entrepreneur to Social Impact Creator"
This is a valuable opportunity to listen to Dr. Kuno's great career story.
We look forward to your active participation to this epoch-making opportunity.