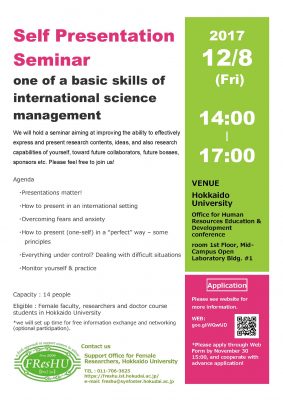 FResHU supports the international and interdisciplinary research collaboration to develop women's career advance. In order to promote the research collaboration in different fields, it is essential to communicate with researchers with different scientific background. Therefore, we will hold a seminar aiming at improving the ability to effectively express and present research contents, ideas, and also research capabilities of yourself, toward future collaborators, future bosses, sponsors etc. Also, we will set up time for free information exchange and networking (optional participation). Please feel free to join us!
Date and Venue
December 8th, (Fri), 14:00~17:00
Place:Front Office for Human Resources Education & Development conference room 1st Floor, Mid-Campus Open Laboratory Bldg. #1
Eligible
Female faculty, researchers and doctor course students in Hokkaido University
Capacity
Max 14 people, The number of the seats is limited to maximize the learning effects of interactive learning method.
Registration
Registration form
If you find you can not attend the seminar after registration, please let us know promptly, so that your seat will be given to other.
Contact: freshu@synfoster.hokudai.ac.jp
Deadline
11/30 15:00
Agenda
Presentations matter!
How to present in an international setting
Overcoming fears and anxiety
How to present (one-self) in a "perfect" way – some principles
Everything under control? Dealing with difficult situations
Monitor yourself & practice
Practical Part
Analyzing one`s (self-)presentation style
role-play: presentation situations in practice
Lecturer Information
Dr. Iris Wieczorek studied Japanese and Chinese Studies, as well as Computer Science at Hamburg University, Germany. In 2000, she joined the GIGA Institute of Asian Studies in Hamburg. In 2008, she became the founding director of the Tokyo representative office of the German Research Foundation (DFG), a post she retained until 2012. Subsequently, she founded IRIS Science Management Inc., a Tokyo-based consulting firm specializing in research management, policy advice, and in supporting "International Relations In Science". She retains a research position with the GIGA, is representing the Leibniz Association in Japan, and is member of various Japanese research policy committees.