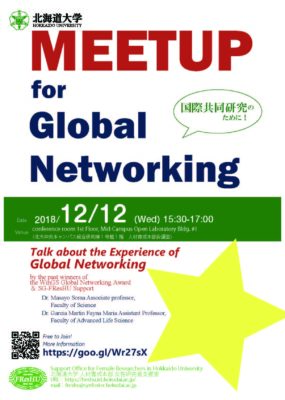 FResHU supports the international and interdisciplinary research collaboration to strengthen women's career advance.
We will hold a seminar to talk about the experience of Global Networking by the past winners of WinGS Global Networking Award and SG-FResHU Support which are the female researcher recognition commendation system of our university.
How did you hold the first contact?
How did you develop into collaborative research?
How did you make arrangements and research progress manegement during that time?
How did you publish your paper?
They will be talking about knowledge gained from experience, what you devised, issues and so on.
If you are planning to start collaborative research , or if you would like to know (share) the tips and know-how to carry out collaborative research smoothly, feel free to join us!
※Seminar will be conducted in English.
Please apply through Web Form.
Please cooperate with advance application.