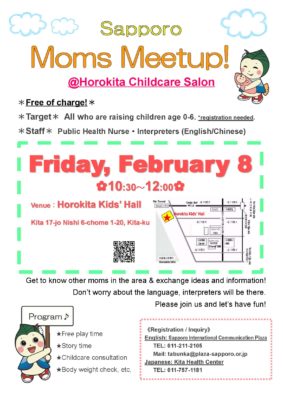 札幌国際プラザより標記イベントのお知らせです。
Sapporo Moms Meetup!
This is an exchange meeting for all who are raising children age 0-6!
Interpreters, public health nurse and volunteers will be there to support you.
Get to know other moms in the area & exchange ideas and information!
Please join us and let's have fun!
Date & Time: February 8 (Fri.) 10:30-12:00
Location: Horokita Kids' Hall (Kita17 Nishi6 1-20, Kita-ku, Sapporo)
Please sign-up in advance. This is a free event.
Website: http://plaza-sapporo.or.jp/citizen_j/seminar/#seminar503
---
【さっぽろ子育(こそだ)てミートアップ】
親子(おやこ)で楽(たの)しめる国際(こくさい)交流(こうりゅう)イベントです♪
札幌(さっぽろ)で生活(せいかつ)する外国人(がいこくじん)親子(おやこ)さん、
お近(ちか)くにお住(す)まいの日本人(にほんじん)親子(おやこ)さんのご参加(さんか)をお待(ま)ちしています!!
日時(にちじ): 2月8日(金) 10:30-12:00
会場(かいじょう):幌北児童会館(ほろきた じどう かいかん)(札幌市北区(きたく)北(きた)17条(じょう)西(にし)6丁目(ちょうめ)1-20)
予約(よやく)はいりません。無料(むりょう)のイベントです。
ウェブサイト: http://plaza-sapporo.or.jp/citizen_j/seminar/#seminar503